What is Lifestyle Canine Communication System?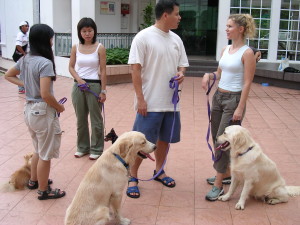 The 'Lifestyle' part of the system refers to the fact that all obedience training should be aimed at educating dog owners on how best to help their beloved pets assimilate into their individual family 'pack'.
The handler has to work their own dog according to their needs and abilities in a manner that will be relevant to not only the training centre, but home, work or anywhere else the dog accompanies them. A domestic dog is still very much a 'pack' animal and needs the stimulation and interaction from other members of its family unit to help it develop the social skills and manners needed to fit into today's society.
At Perfect K9, we use our obedience commands to help your pets to learn the human/dog 'pack' rules and to develop the type of relationship that can be based on understanding and respect. Using your obedience skills to constantly interact with your dog is creating an environment where the communication should be both practical and consistent, making the co existence within your family unit a very natural and comfortable situation for both people and dog.
Concepts of real time scenarios :
Within Perfect K9's training system, the result of training is not just a dog that can perform certain exercises in various set routines around a training place, it is more to the point that the dog and handler can learn to apply their skills in varied situations and under different distractions.
The course has been designed to promote realistic handling skills away from the usual training ground. Our trainer will teach you how to handle your dog in a manner that can be applied in the home or elsewhere.
For example :
You may want to have your dog rest quietly beside you while you are dining outside.
A dog who can sit still while you are in the lift.
A dog who will do a stay while you need to have a short chat after seeing your friends on the street
A dog who can sit and wait for your instruction before crossing a junction for safety reason
and many many more…